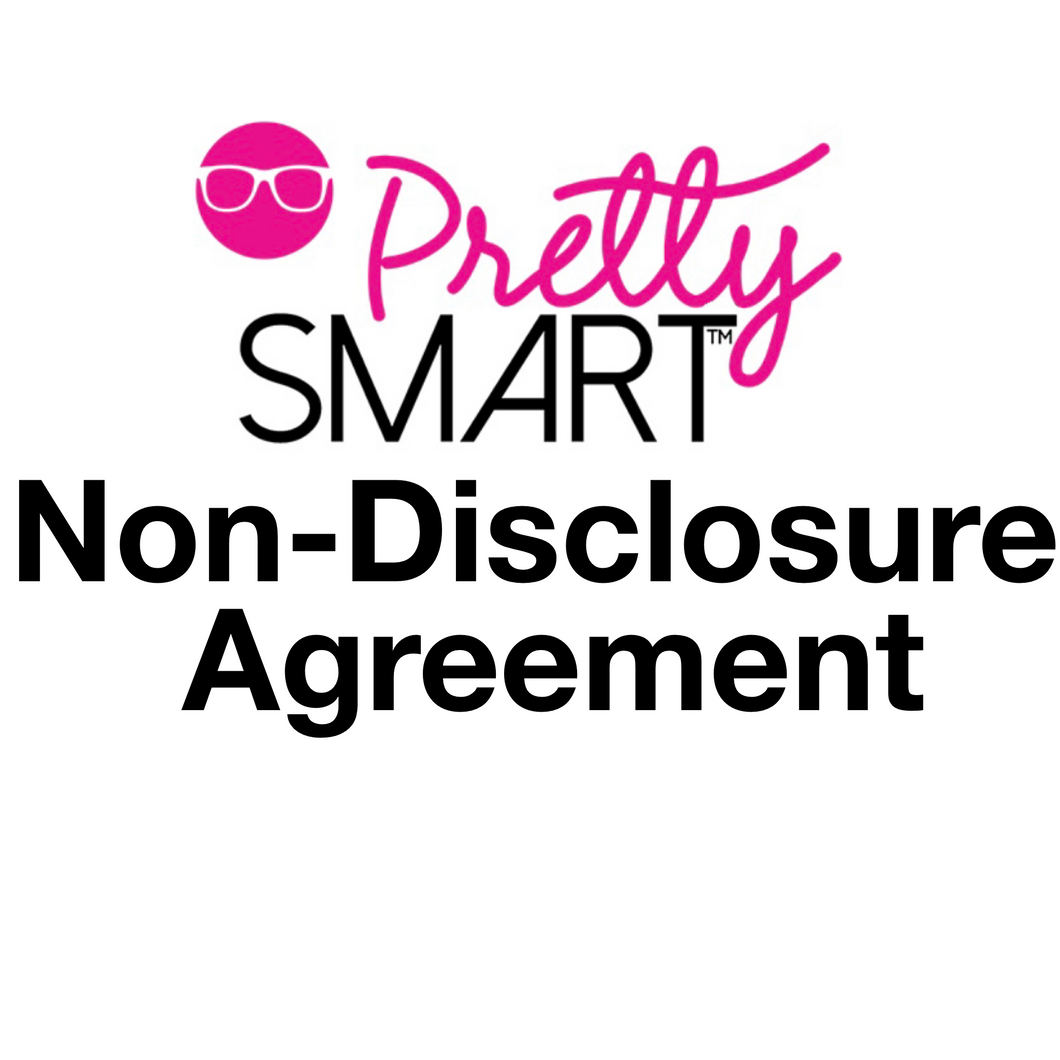 Non-Disclosure Agreement
Regular price $249.99 $199.99 Sale
One (1) Editable Non-Disclosure Agreement (NDA) to use for your brand or business. This is an e-product and non-refundable after purchase. You will receive one (1) Word .doc and The PrettySMART Guide to Safeguarding Your Brand and Business: How to Use Your Non-Disclosure Agreements (NDAs) as .PDF
Using NDA's are important for brands and entrepreneurs and are especially important for the Digital Age with so much information being exchanged. It's important to protect your business, sensitive and/or proprietary information, to help protect your inventions and ideas.
An NDA helps protect your business and brand. Obtaining an NDA to protect your brand and business is one of the first things you should get when starting out or launching a new product or service. An NDA can help limit your creative idea being stolen and used by others for profit.
This sample
This NDA includes:
Ownership terms

Protections & Exclusions 

Time/Term Period

Remedies/Damages provisions

And more…

*This Contract Download Includes: a Word Version 
Please consult with a licensed legal professional in your area as this a sample template agreement and not exhaustive of all rights and remedies you may need. 
Legal Disclaimer & Copyright ©  Notice*
The information contained in this document is for general informational purposes only and does not constitute legal advice. This is a product of PrettySMART, LLC. We are not a law firm and do not provide legal advice. Use of our products are governed by our Terms of Use and Privacy Policies. This agreement is non-non-transferable and may only be used by the purchaser in a limited license. No attorney-client relationship is created by your use of this website or any of the information or materials provided herein. You should not act or refrain from acting based on any information contained in this website without first seeking legal advice from an attorney licensed to practice in your jurisdiction.
The information in the agreement or on this website may not be accurate, complete, or up-to-date. The information is provided without any warranty of any kind, express or implied. You expressly agree that you use this website at your own risk.
In no event shall the website owner or any of its officers, directors, employees, or agents be liable for any direct, indirect, consequential, special, or punitive damages arising out of your use of this website or any information or materials provided herein.
You agree to indemnify, defend, and hold harmless the website owner and its officers, directors, employees, and agents from and against any and all claims, losses, damages, liabilities, costs, and expenses (including reasonable attorneys' fees) arising out of or in connection with your use of this website or any information or materials provided herein.